MiSight Contact Lenses by CooperVision for Myopia Management
Myopia, or nearsightedness, is a common vision problem that often begins between the ages of 6 and 14. It affects an estimated 5% of preschoolers, about 9% of school aged children and 30% of adolescents.  Myopia generally gets worse through adolescence, then starts to stabilize in the early twenties.
Myopia symptoms in children
Symptoms of myopia include:
Complaints of blurry vision (like not being able to see the board in school)
Squinting to try to see better
Frequent eye rubbing
Frequent headaches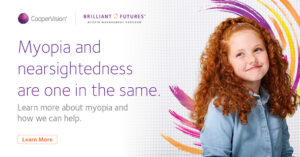 Start Managing your child's myopia today.   Learn more about MiSight® 1 day contact lenses, the only FDA approved treatment for myopia control (link to https://www.misight.com/)  and hear from current patients here (https://youtu.be/3CM2NWt8gGg).