Women's Eye Health Month
Women's Eye Health and Safety Month is observed in April to create awareness around women being more susceptible to issues with their eyesight and having a higher risk of permanently losing their sight compared to men. Women need to be aware of this fact and take the necessary steps to prevent exposure to such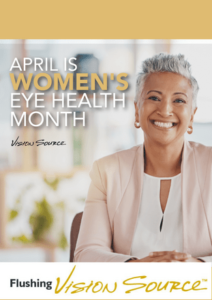 risk.
Women typically live longer, putting them at higher risk for diseases such as cataracts, age-related macular degeneration (AMD), and glaucoma.
Normal age-related hormonal changes may affect women's eyes. Dry eye is common partly due to hormonal changes that come with aging.
Two-thirds of all blindness and visual impairment occur in women.
Women may delay their regular eye exams to manage family or take care of their daily obligations and forget to care for themselves.  But, we encourage to begin today!  If it s been a while since your last eye exam, call and schedule today.