Halloween is near!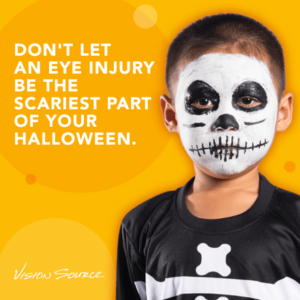 Tip 1: Avoid Costumes That Could Block Vision
It is always fun to add a ton of Halloween accessories such as masks, eye patches or wigs, but make sure these items do not block your visibility. Masks can be dangerous for children because they can block side vision. Try face painting or make-up instead of a mask.
Tip 2: Avoid Sharp Props
Most costumes are not complete without a prop! Often times these include wands, swords or sticks. Still, it's important to be cautious of what you allow your child to carry throughout the night. Using sharp objects increases the risk of not only endangering your children's eyes, but the eyes of other children as well.
Tip 3: Use Make-Up Safely
Make-up is an easy and fun way to finalize a costume. If you plan on using make-up for your children's costume, be sure to use hypo-allergenic options and keep it away from the eyes. Keep a wet towel or washcloth handy in case the make-up begins to run while out trick-or-treating.
Tip 4: Stay Away from Decorative Contact Lenses Unless Prescribed
A new fad is completing Halloween costumes with decorative colored cosmetic contact lenses. It is important to remember that contacts are medically prescribed from a doctor. Using over-the-counter lenses could be extremely unsafe and lead to an eye infection or even vision loss. Reach out to your eye doctor if you are considering decorative contact lenses this Halloween.